"
If you join, I will grant your wish someday. I promise to kill you.
"

—Kensuke Hanasaki, to Yoshio Kobayashi
Kensuke Hanasaki (花崎健介 Hanasaki Kensuke) is one of the two main protagonists of Trickster: Edogawa Ranpo 'Shōnen Tantei-dan Yori and a member of the Boy Detectives Club.
Physical Appearance
Edit
Hanasaki is an average-sized teenager with flat brown hair, sky blue eyes, and lightly tanned skin. Despite how thin he may look in his clothes, Hanasaki has a considerable amount of muscle. Outside of school, Hanasaki wears an orange tracksuit, black running shoes, and grey briefs.
Personality
Edit
Hanasaki is very energetic and confident. He is described by Makoto Noro as a Hardcore Aldrenaline Junkie, living for those thrills . He likes to act on his own which causes trouble for everyone else. He believes in taking action immediately whenever his sense of justice is stirred and he often overestimates his own abilities. When he's interested in something, Hanasaki tends to ignore the feelings of others in favor of his own amusement or satisfaction, as shown in his interactions with Kobayashi.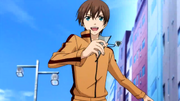 Kensuke was an orphan and was adopted into the Hanasaki family. That is where he met Haruhiko, his stepbrother. Even though they were not related by blood, they acted like real siblings.
Mr. Hanasaki wanted to send Kensuke back to the orphanage, but Haruhiko was against it and therefore he disappeared and Kensuke became the eldest son.
Kensuke tried to ask Akechi to help find his brother, but he refused every time. In episode eight, Kensuke asks Akechi to help him become stronger.
♦ Hanasaki has to go to school once every month when it's required.
♦ Hanasaki 「花咲」 translates as roughly blooming flower. As seen from Opening one, Kimi Dake No Boku De Iru Kara lyric "I'll make flowers bloom all around the world with my smile.
References
Edit